VectorPro® force testing software
VectorPro software is designed and developed by Mecmesin specifically for use with the OmniTest range of universal testing machines. VectorPro's drag and drop interface enables operators to create everything from complex materials testing procedures to component and product testing.
Built-in stress and strain calculations, backed-up by powerful reporting tools, make VectorPro the perfect choice for routine quality control checks and more detailed analysis of materials properties. Perfect for use in both QC and R&D laboratories.
Audit trails and e-signature functionality are embedded in the software's architecture to support customers in the medical and pharmaceutical industry for compliance with FDA 21 CFR Part 11.
NOTE: Our products which run Emperor™ software cannot be upgraded to run VectorPro.
Key features
Design
Intuitive icon-driven interface and workspace
Advanced 'drag and drop' test routine builder
Personalised user accounts and favourites
Touchscreen enabled
Batch testing sets of samples
Control
Stress/strain machine control
Active load control (load holding & load ramping)
System deflection compensation
Manage user permissions and audit trail
Methods for texture analysis
Report
Built-in materials testing calculations
Customisable test report templates
Print and e-mail reports in Adobe PDF format
Export data to Excel and other analysis packages
Support for CFR 21 processes and SQL server database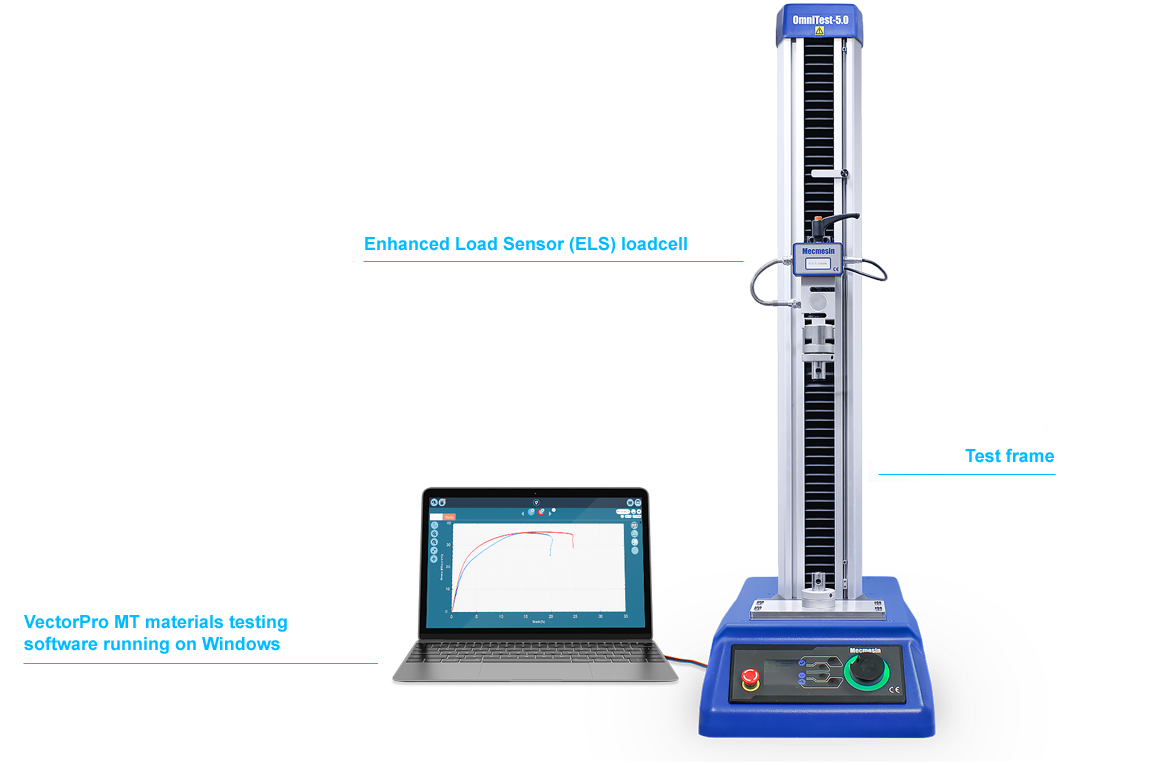 Software control
VectorPro testing software runs on Windows computers, taking full control of the test frame motor whilst simultaneously collecting data from the ELS loadcell and displacement channels.
Connect an extensometer to measure elongation directly on the specimen.
Start your chosen routine from a PC or console and VectorPro automates the complete test procedure.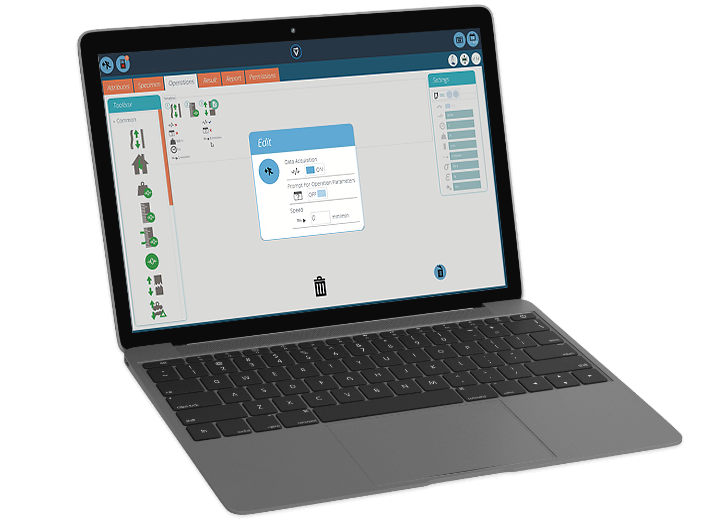 Easy to use
Design and configure step-by-step test routines to match your testing procedures. An intuitive 'drag and drop' interface makes it easy to create, customise and save tests.
VectorPro guarantees precision testing by providing stress-strain machine control, basic and active load control, as well as system deflection compensation.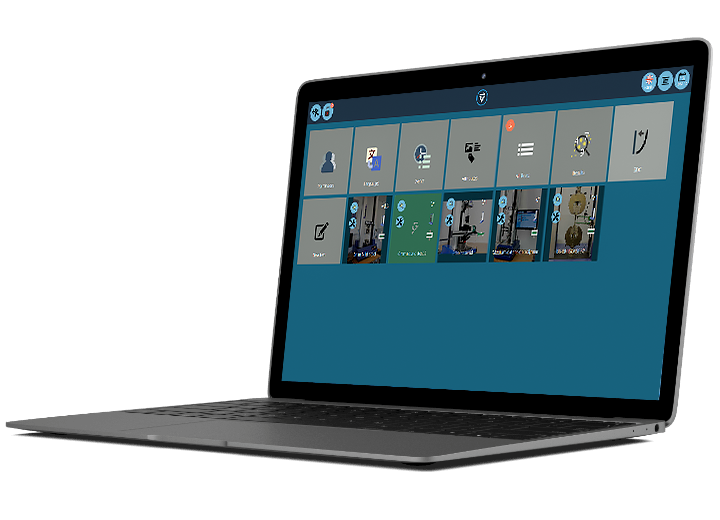 Take control
Personalised user accounts enable quick access to commonly performed tests, and restricts who can create or run tests, view results and produce reports.
VectorPro's event log enables supervisors to authorise actions with e-signatures, providing an audit trail for FDA 21 CFR Part 11.
Gather essential information with a 'prompt for value' (compulsory user input) feature before performing a test.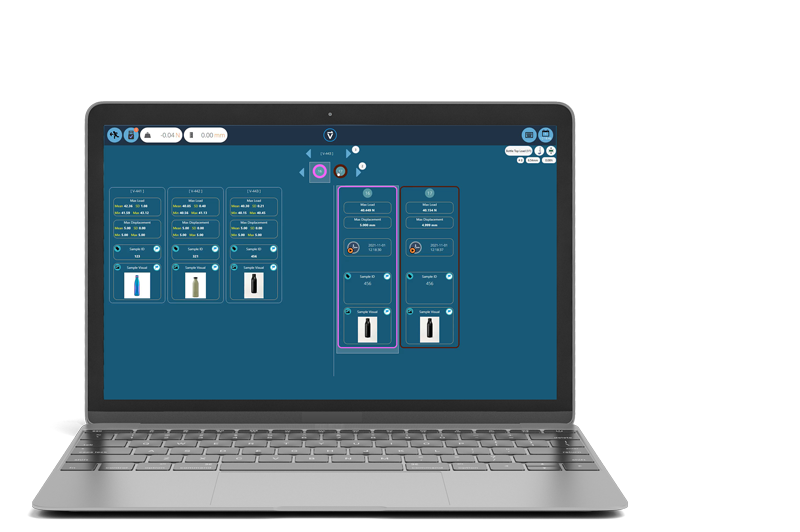 Batch testing and automation
Batch testing in VectorPro uses a pre-configured test to create a semi-automatic or fully automatic testing system on sets of products and batches of the products.
It simplifies the use of VectorPro by automatically opening the test and creating a new test with a graph for every sample, exporting data and printing test reports. Test reports can contain overlay graphs or individual test graphs.
This functionality also allows monitoring of the batch progress and can be started, paused and re-started at any time.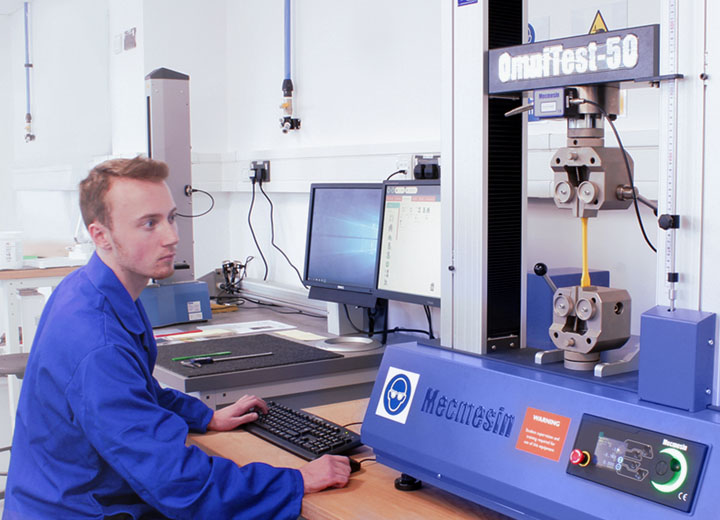 Realtime results
See exactly how your specimen is performing on a live graph as all data is captured at 500 times per second (500 Hz).
Easily change graph axes between stress/strain, load/displacement and load/time to better present and understand test results.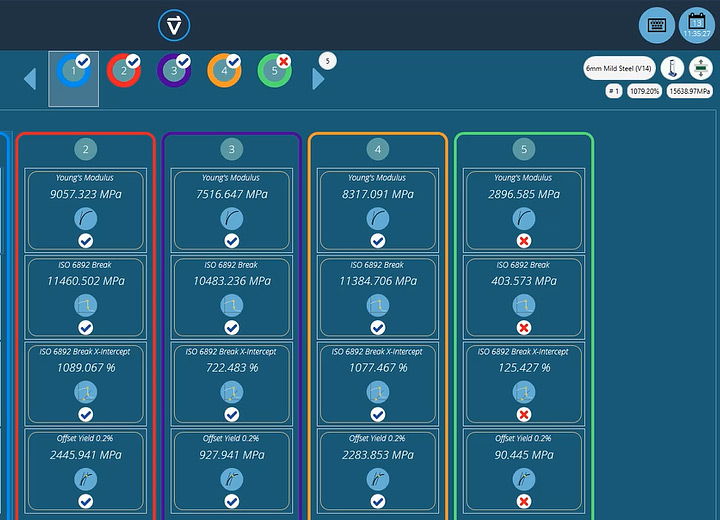 Pass or fail indicator
A clear pass (blue tick) or fail (red cross) indicator, according to your specification criteria, alerts operators immediately leaving no doubt about the status of each specimen.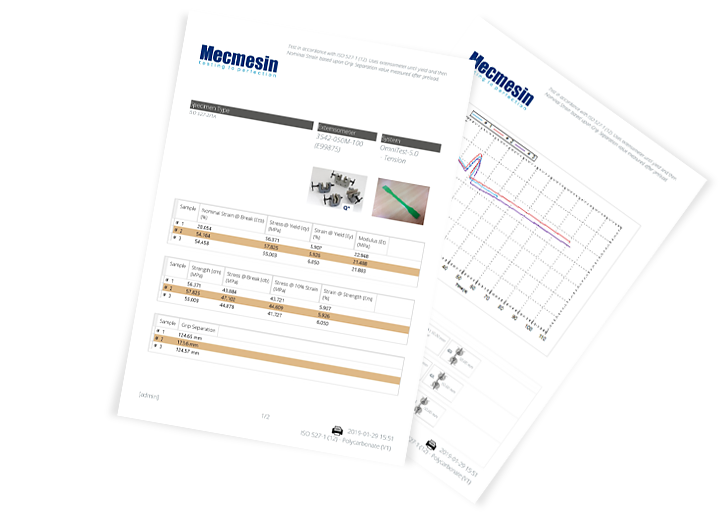 Report and analyse
A powerful reporting module allows you to configure test reports to present data the way your customer wants to see it.
Built-in calculations for Young's Modulus, Offset Yield, Ultimate Tensile Strength, Nominal Strain and more, makes analysing the data simple.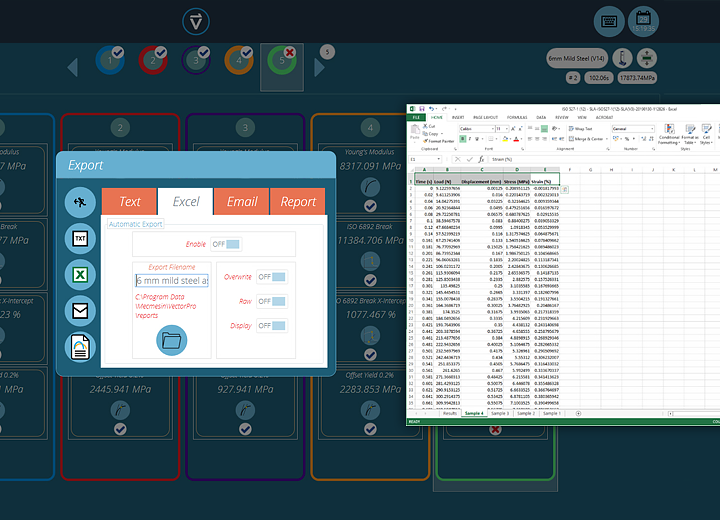 Share your data
All the test data can be automatically exported to Microsoft Excel or other data-analysis packages.
You can install VectorPro MT on other computers to easily share customised tests and your results data.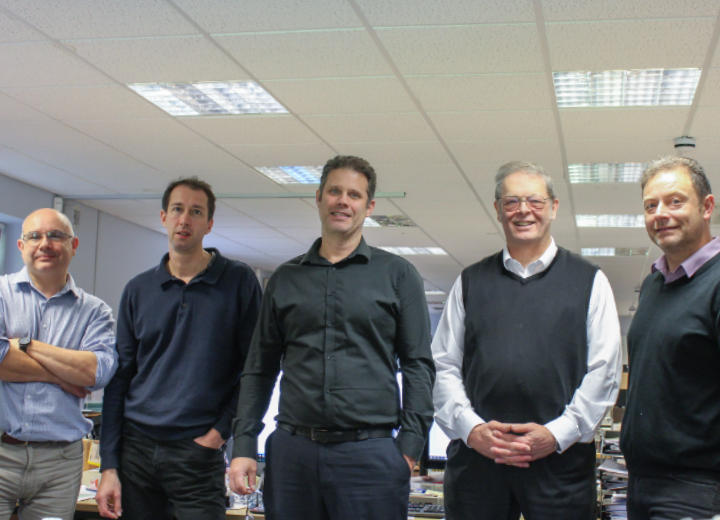 We're here to help
Our technical engineers will help you get started and show you how to configure routines to your exact testing requirements.
We are always on hand to support you if you need any advice or guidance after installation.