Mecmesin is committed to providing our customers with the highest level of after-sales service, all across the world.
Whether it be for calibration, equipment repairs or technical support there is an extensive global support network of service centres ready to help you.
Mecmesin's regional offices, backed up by fully-trained national distributors, offer a prompt and efficient service to keep your Mecmesin force and torque testing equipment in top-class condition.
When buying your test equipment from Mecmesin you can be sure that it is manufactured to the highest possible standards and calibrated in our climate-controlled facility by trained technicians before delivery.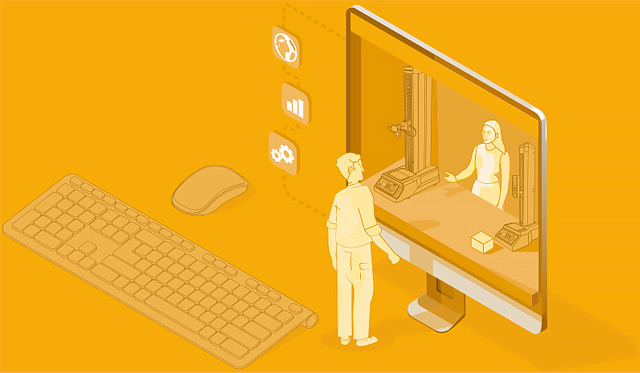 Book your calibration service
Information on our calibration process, as well as pricing for the UK, Ireland and France, is available on our online support area.
Your request will be sent directly to your nearest Mecmesin service centre.
Request your calibration online
Calibrating equipment
Mecmesin calibration services provide peace of mind that your instrument is properly calibrated and measuring accurately.
At Mecmesin's head office in the UK, our factory calibrations are calculated according to the methods described in ISO 17025.
Our calibration procedures meet the requirements of BS EN 10012 and are regularly audited as part of our ISO 9001 quality management accreditation.
Calibrating sensors
Force and torque sensors require regular verification and (if necessary) adjustment to bring them back within allowable tolerances.
While other commercial calibration laboratories may be able to verify Mecmesin equipment, only Mecmesin-approved technicians can perform an on-the-spot adjustment to bring your instrument back within specification and then issue you with appropriate certificates.
Support packages
Whether you require a fast-track calibration on a single gauge or you would like to benefit from a 3-year calibration agreement for multiple testers, we can tailor an agreement to suit your needs.
Our 3-year calibration contract aims to provide our customers with peace of mind and one less thing to remember, by offering:
Annual calibration with a certificate traceable to UK national standards
Fixed price guarantee for 3 years
Email reminders 2 weeks prior to your next calibration
Free extended warranty (4 years)
Our free extended warranty offer applies to customers taking a 3-year calibration agreement for any products purchased in the last 12 months.
Contact our service department for details
On-site calibration
We also offer an on-site calibration service for customers in the UK, Ireland, France, Belgium, Germany and Thailand. A Mecmesin engineer will perform the calibration on your premises and issue a certificate.
For on-site calibration in countries in all other countries, please contact your nearest Mecmesin distributor through the calibration request below to make the appropriate arrangements based on your location.
Request your calibration online