The TWC Torque Wrench Calibrator is is a simple and cost-effective solution for checking the settings on standard 'beam', 'click' and 'break-over' wrenches.
Manually operated and measuring both clockwise and counter-clockwise torque up to 1000 N.m with RS232 data-output for recording results for each wrench.
Got a question about this system? Get in touch and speak to one of our Technical Sales Engineers now...
Speak to an expert
Overview
TWC
The quality, safety and reliability of a product often depend on how well it is tightened. Fasteners can vibrate loose or the thread can be stripped if they are applied with excessive torque.
Monitoring the tools which apply the torque, is critical to achieving consistency when assembling components.
A torque wrench is designed to deliver a precise torque and should be properly calibrated and maintained on a regular basis to guarantee its best performance.
The TWC Torque Wrench Calibrator is a compact digital test instrument designed to measure the torque settings on standard 'beam', 'click' and 'break-over' wrenches.
It can easily be mounted on any workbench and the torque sensor features a handy square-drive for connection of common adaptors.
The backlit digital display is easy to read and records both the 'live running torque' and the 'peak torque' in all common units (N.m, lbf.in, lbf.ft, kgf.cm etc..).
A click wrench is designed to give an audible click and a slight movement when it reaches its pre-set torque limit. It should not be pulled too far by the operator otherwise it will reach a solid point and excessive torque will cause a fastener to be overtightened.
The 'first-peak' function of the TWC allows 'click' and 'break-over' type wrenches to be accurately measured by detecting the torque at which the wrench clicks and slips, even if the operator inadvertently pulls too far.
Effective calibration of a torque wrench usually requires multiple test readings to be taken at various ranges of its capacity, typically 5 times at 20%, 60% and 100%.
Once each test is completed the result can instantly be sent via RS232 to a printer or PC to record the true calibrated setting of the torque wrench.
Product datasheets
Product Brochures
Key specs
Measurement range
Torque (clockwise and counter-clockwise)
Available models (all measure from zero to the value indicated in the table below)
| Model | TWC 1 | TWC 2 | TWC 3 | TWC 4 | TWC 5 | TWC 6 |
| --- | --- | --- | --- | --- | --- | --- |
| N.m | 15 | 60 | 100 | 150 | 600 | 1000 |
| lbf.ft | 11 | 44 | 72 | 110 | 440 | 720 |
| kgf.cm | 150 | 600 | 1000 | 1500 | 6000 | 10 000 |
Accuracy
±0.5% of full scale
e.g. TWC 2 has full-scale capacity of 60 N.m so is accurate to ± 0.3 N.m at any point of the range between 0 - 60 N.m
Dimensions
190 mm (w), 200 mm (h), 155 mm (d)
Key applications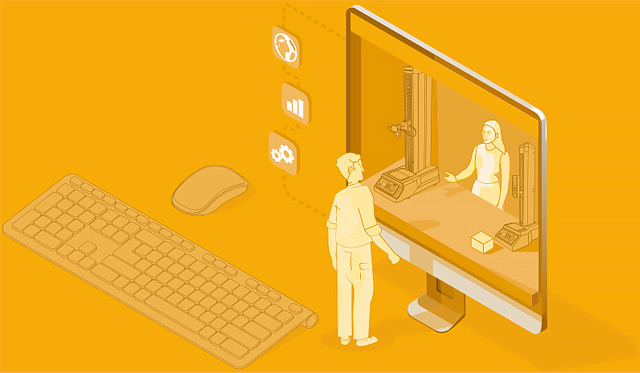 Online test equipment and training demos
As more people are working from home to reduce non-essential travel, our technical sales engineers can provide online equipment demos or training sessions via web-based video calls.
If possible, send in your own samples and our sales team will be able to present your own products being tested.
Get in touch to discuss your requirements and to arrange an online demo or training session.
Case studies