The FMT-W40 is a motorised wire-terminal pull tester. It is available in 2 models with a tensile strength capacity up to either 500N (110 lbf) or 1000N (220 lbf).
It is rugged, compact and occupies little space on the benchtop. Specifically designed for ease of use with minimal training, the FMT-W40 is an ideal solution for testing the pull strength of crimped wire terminals right at the point of production.
Its motor drive enables wire terminals to be pull tested at a constant pull speed for greater repeatability of testing. The FMT-W40 features seven different test speeds as required by the relevant testing standards.
There are three selectable test modes to allow for destructive and non-destructive testing: pull and break; pull and hold; pull, hold and then break.
Suitable for tensile pull strength testing of wire connectors and terminals according to IEC, DIN, EN, BS, UL, SAE, MIL and NASA standards.
Got a question about this system? Get in touch and speak to one of our Technical Sales Engineers now...
Speak to an expert
Overview
The FMT-W40 motorised wire-terminal pull-tester, manufactured by Mecmesin's sister company Alluris, is designed for crimped wire terminal testing according to IPC/WHMA-A-620, UL 486, ASTM B913, USCAR 21, EN 2591-417, MIL-STD 202-H, NASA 8739-4 and many more relevant standards.
Two versions of the FMT-W40 are available in capacities of either 500N (110 lbf) or 1000N (220 lbf)
To ensure the best repeatability and accuracy it is essential when pull-testing wired connectors that there is no jerking or sudden application of force. This is the reason why test standards state that there should be a 'constant rate of pull' and most define a fixed speed at which tests should be performed. The only practical way to achieve repeatability for such pull force tests is by using a motorised pull tester. The FMT-W40 is easy to use and eliminates operator inconsistencies, making it ideal for type-approval testing.
There are seven user-selectable speed options from 10 to 200 mm/min, covering all common pull-rates stipulated in the test standards.
A further benefit to reproducibility is provided by three selectable modes for destructive and non-destructive tests:
pull and break (destructive)
pull and hold (non-destructive)
pull, hold and break (destructive)
The crimp receptacle fixture has 12 slots ranging in width from 0.5 – 6 mm covering AWG 8-30 for quick and easy loading of the terminal. The cable is clamped securely in a cam by a fast-action lever before starting the automatic test at the push of a button. The digital display captures peak load at 1000 Hz and clearly indicates the pull strength result of the test in newtons, pounds-force or kilo-force. Data can be stored and transmitted to optional software for generating a test report.
The rugged design features a nitride-hardened steel, scratch-resistant base-plate with non-slip feet. This portable and compact benchtop instrument is ideal for efficient and reliable quality control testing of crimped wire terminals right at the point-of-production.
Product datasheets
Product Brochures
Key specs
Capacity (f.s.) and Resolution
| | FMT-W40C5 | FMT-W40K1 |
| --- | --- | --- |
| N | 500 x 0.5 | 1000 x 1 |
| lbf | 110 x 0.1 | 220 x 0.2 |
| kgf | 50 x 0.05 | 100 x 0.1 |
Accuracy
± 0.5% of full-scale (f.s.)
Acquisition Rate
1000 times per second
Max. operating force
120% of f.s. (auto-reverses to release load if limit exceeded)
Pull speed settings (mm/min)
10, 25, 37.5, 50, 100, 150 and 200


Display
LCD 5 digits, 14mm high
Memory
1000 readings with max, min, mean and standard deviation calculations
Output
via USB 2.0 Interface
Dimensions mm (LxWxH)
320 x 160 x 115
Supplied with:
Standard: Pull Tester fitted with Crimp Receptacle and Cable Cam fixtures, USB interface cable, CD-ROM with software (trial version - no licence), power supply. Optional: Operating instructions with CE declaration of conformity(printed), Dakks (German) calibration certificate, software licence, interchangeable adapter and carrying case - order separately as required.
Key applications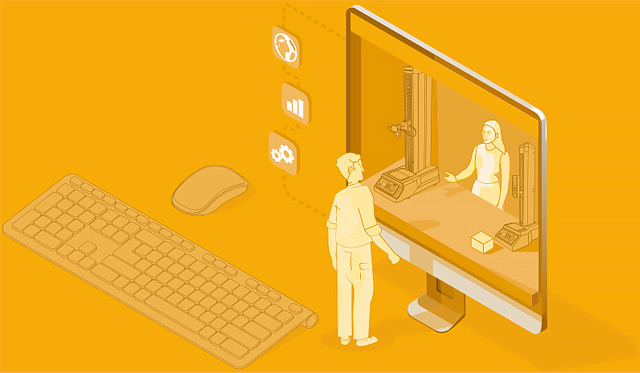 Online test equipment and training demos
As more people are working from home to reduce non-essential travel, our technical sales engineers can provide online equipment demos or training sessions via web-based video calls.
If possible, send in your own samples and our sales team will be able to present your own products being tested.
Get in touch to discuss your requirements and to arrange an online demo or training session.
Case studies