//videos.sproutvideo.com/embed/4c9ad1bb1f18ecc8c4/1df30b13c867d4b2?autoPlay=true&playerColor=fdc732
The Shotcrete Penetrometer is a complete portable system for testing the compressive strength of the initial curing stage of young sprayed concrete to BS EN 14488-2 (Method A).
It provides accurate readings of the forces required to penetrate sprayed (shotcrete) or poured concrete. These resistive force readings are then used to convert to a compressive strength value. This accuracy—beyond the requirements of the standard—and portability make it ideal for on-site testing.
Got a question about this system? Get in touch and speak to one of our Technical Sales Engineers now...
Speak to an expert
Overview
The Shotcrete Penetrometer is Mecmesin's specialised force test kit designed for use in testing to the international industry standard relating to sprayed concrete or poured concrete during the first few hours of development. This instrument meets the requirement principle of Method A: Penetration needle to measure penetration resistance force.
Testing to BS EN 14488-2 (Method A)
Verification of consistency is vital in the initial stages of the concrete curing process in order to ensure maximum strength. This phase is defined as being when the strength is assessed as to be between of 0.2 MPa to 1.2 MPa.
The standard Testing sprayed concrete – Part 2: Compressive strength of young sprayed concrete indicates the testing procedure to be used; multiple needle penetration resistance tests, which provide a reliable indication of hardness.
Shotcrete Penetrometer provides loadcell accuracy exceeding the recommendation of the test standard and can be used in conjunction with other tests as the mixture further hardens over time.
Complete on-site testing kit
The portable Shotcrete Penetrometer kit comes complete with all of the accessories needed to measure readings and calculate strength values at the construction site. This enables quick turnaround of results at this time-sensitive phase of strength development and helps determine whether it is safe to re-enter tunnels and resume blasting near the shotcreting site.
Robust wipe-clean carry case
Shotcrete Penetrometer with dual handle (fitted)
Penetrometer needle adapter
15 × Penetration needles (15 mm length, 3 mm dia, 60º angle)
5 × Rechargeable NIMH Batteries
Mains adaptor/charger
Operating manual
User guide
Calibration certificate
Product datasheets
Product Brochures
Key specs
Measurement units in N, lbf or kgf
1000 N loadcell
+/- 1 N accuracy far exceeds the minimum requirements of EN 1488-2
Store up to 500 readings in memory
RS232 data output to printer or PC
Features and benefits
Features and benefits
Sturdy, cleanable, and portable design
Built-in 1000 N loadcell
15 spare penetration needles with quick and easy fitting
Live display for immediate, clear results
Inverted display for ease of reading
Simple operation suitable for unskilled staff
Related International Standards
EN 14488-2 "Testing sprayed concrete. Compressive strength of young sprayed concrete"
Key applications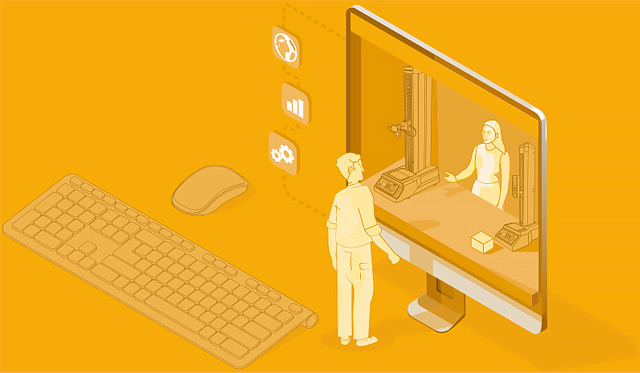 Online test equipment and training demos
As more people are working from home to reduce non-essential travel, our technical sales engineers can provide online equipment demos or training sessions via web-based video calls.
If possible, send in your own samples and our sales team will be able to present your own products being tested.
Get in touch to discuss your requirements and to arrange an online demo or training session.
Case studies