Standards
Featured or equivalent test standards for Mecmesin solutions in this section
Term Video
<p><iframe allowfullscreen="" class="sproutvideo-player" frameborder="0" height="354" src="//videos.sproutvideo.com/embed/489bddb21f1ae7c0c0/7de48c1289bed5b4" width="630"></iframe></p>

Test summary
The seal strength of the pouch or reel material is measured by cutting a sample strip at 90° through the seal and measuring the maximum force needed to separate the seal.
Test apparatus
Tensile tester with grips and suitable range loadcell. This may be a vertical testing stand, or alternatively a horizontally oriented machine.
Cutting apparatus
Preparation
Cut a sufficient quantity of strips from a representative sample to a width of 15 ± 0.1mm perpendicular to the seal, and of sufficient length so as to able to be easily clamped in the fixed and moving grips of the test stand. Expose the pouch or reel material to the intended sterilization cycle in accordance with the relevant European standard
Test method
1. Cut strips from the sample to the dimensions defined in the standard.

2. Sterilize the test strips in accordance with the relevant standards

3. Clamp the ends of the sample strip into the jaws of the tensile tester with the seal perpendicular to the direction of movement, and equidistant between the fixed and moving jaws.

4. If required, support the tail of the test specimen.

5. Set the tensile tester in motion at a speed of 200 ± 10 mm/min.

6. Record the tensile force and displacement as the seal is peeled apart.
Report

Record all details necessary to identify the sample including width and machine direction in relation to the direction of pull.

Report the speed of separation used by the tensile tester, and the method used to support the tail of the sample if appropriate.

Report the maximum tensile force in newtons per 15 mm width encountered as the specimen is peeled apart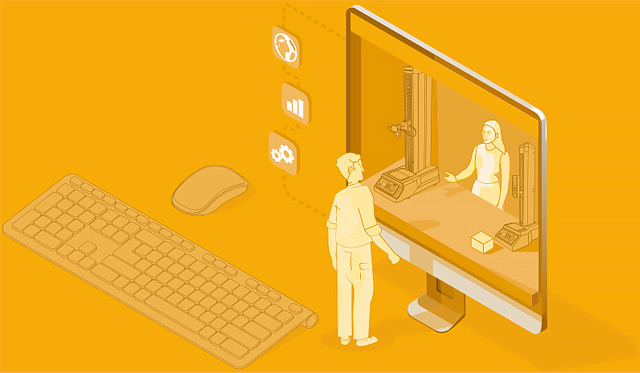 Online test equipment and training demos
As more people are working from home to reduce non-essential travel, our technical sales engineers can provide online equipment demos or training sessions via web-based video calls.
If possible, send in your own samples and our sales team will be able to present your own products being tested.
Get in touch to discuss your requirements and to arrange an online demo or training session.